11 Things To Do on Wall Street: As Told by a New Yorker
Wall Street. So many things come to mind when you hear those words. After Broadway, it's the most famous street in NYC. And like Broadway, people tend to only associate it with one thing, money.
While money is certainly influential to Wall Street, there are so many other things that make the Financial District special — history, architecture, good food. These are all things you can easily find.
As a local, it's one of my favorite neighborhoods in the city. Mostly because there is so much to do. In this post, I'll share the best things to do on Wall Street and hopefully inspire you to see them for yourself.
1. The New York Stock Exchange
The New York Stock Exchange is one of New York's most influential buildings. Sitting right at the corner of Broad and Wall Street, this historical site is even more impressive when you see it in person. When you think of classic things to do on Wall Street, this place is one of the first to come to mind.
Although you can't go inside anymore, there are still plenty of ways to experience the stock exchange. Take some photos with the landmark facade or get there early and listen for the opening bell, rung at 9:30 a.m. every weekday.
2. The Charging Bull
Nothing symbolizes Wall Street quite so much as the Charging Bull.
This 7,000-pound, bronze sculpture was a gift to New Yorkers from Italian artist Arturo Di Modica. It was originally placed in front of the New York Stock Exchange but, due to some sensitivity issues, it was decided that the sculpture should be moved to Broadway.
Every year, thousands of people line up to get their photo taken with the bull, some going so far as to rub it for good luck.
3. Learn about the 2008 financial crisis
If you'd like to know more about Wall Street from the people who worked and lived it, check out our highly acclaimed Financial Crisis Tour. This in-depth look at the 2008 financial crisis gives detailed explanation as to how the collapse unfolded and almost destroyed the economy.
It's a great activity for those who are interested in Wall Street but aren't quite sure how influential and important it is to our daily lives.
4. Battery Park
Just a few minutes walk from Wall Street is Battery Park, the southernmost point of Manhattan. The park is home to an original sandstone war fort, Castle Clinton, and a great view of the Statue of Liberty and Ellis Island. The best time to visit is during sunset, for beautiful pictures of Lady Liberty and New York harbor.
Guide tip: You can also catch the free Staten Island ferry here if you want to see a better view of the statue.
5. Trinity Church
Trinity Church was originally built in 1848, making it one of the oldest churches in the city. The unique brownstone exterior stands out from the other skyscrapers downtown, while the churchyard is home to many notable New Yorkers, including the one and only Alexander Hamilton.
Head inside to see the newly installed pipe organ and beautiful stained glass windows.
6. Stone Street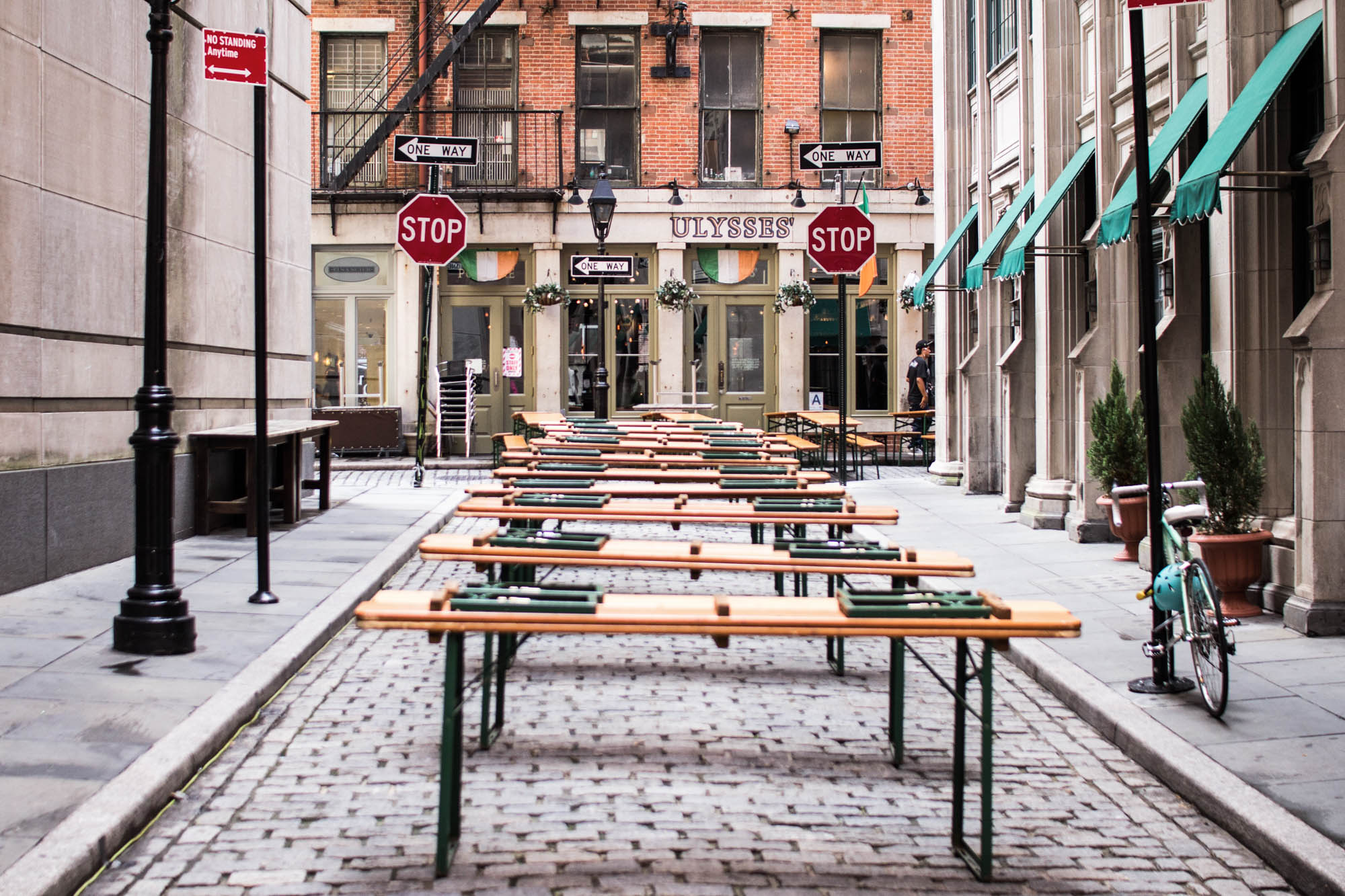 All that walking making you hungry?
Lucky for you, just a couple minutes south of Wall Street is Stone Street — a small block full of Dutch revival architecture and delicious eateries.
This is one of the best things to do near Wall Street. Stroll through history and decide what you're in the mood for as you walk along New York's first paved roadway. There's Italian, Barbecue, Mexican, you name it!
Guide tip: For the history buffs, stop by Fraunces Tavern and dine in the footsteps of our founding fathers.
7. Take a tour
By now you might be asking yourself, with all the things to do on Wall Street, how can I make time to see them all? Not to worry. Join us any day of the week for our Lower Manhattan walking tour.
This two-hour tour takes you to many of the sites on this list, with plenty of extra history and tips included along the way. Our expert guides will make sure you see all the best sites of the Financial District as efficiently as possible.
8. The 9/11 Memorial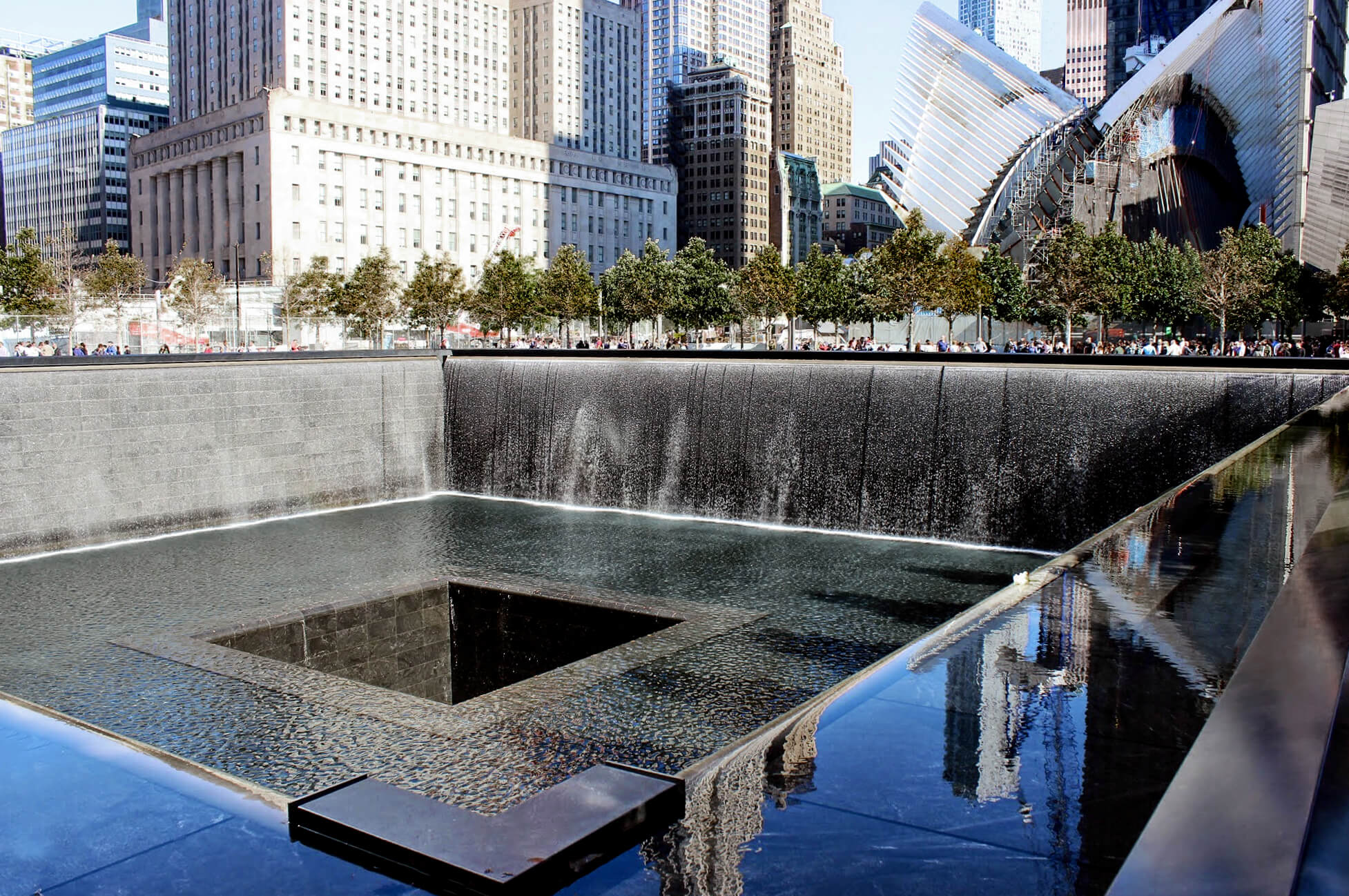 Built in the footprint of the original Twin Towers is the National September 11th Memorial. The open air plaza beautifully pays tribute to the thousands of men, women, and first responders who tragically lost their lives in the attacks on the World Trade Center.
Admission to the memorial is free and includes access to the memorial pools, with the names of each victim engraved around the perimeter. You'll also get to see the famous Survivor Tree and original WTC sphere.
9. The Oculus
Right next door to the memorial is one of New York's newer buildings — the Oculus. It's a very unique and somewhat eccentric-looking transportation hub, with wings jutting out from either side to resemble a flying dove. The inside is covered in pure white Italian marble and lined with shops from front to back.
Guide tip: This is a great place to spend an afternoon if it happens to be a cold or rainy day! Or even just to take a break from sightseeing and do some shopping.
10. Federal Hall
Of all the things to do on Wall Street, visiting Federal Hall is my personal favorite.
Home to George Washington's presidential inauguration and the first draft of the Bill of Rights, this building has seen more history than almost any other in the Financial District.
Today, it operates Monday through Friday as a free museum, dedicated to preserving the history of Washington's inauguration and its former role as a United States sub-treasury.
11. South Street Seaport
Right on the edge of the Financial District neighborhood is the South Street Seaport, an active, little area that's been slowly rebuilding itself after the devastation of Hurricane Sandy.
Visitors to the seaport can enjoy live music, stop by the Fulton farmer's market for a quick bite, or learn some history at the South Street Seaport museum. It's only a 15-minute walk from the stock exchange, and a great excuse to relax by the water and enjoy some (hopefully) nice weather.
Wall Street: Not just for tourists and executives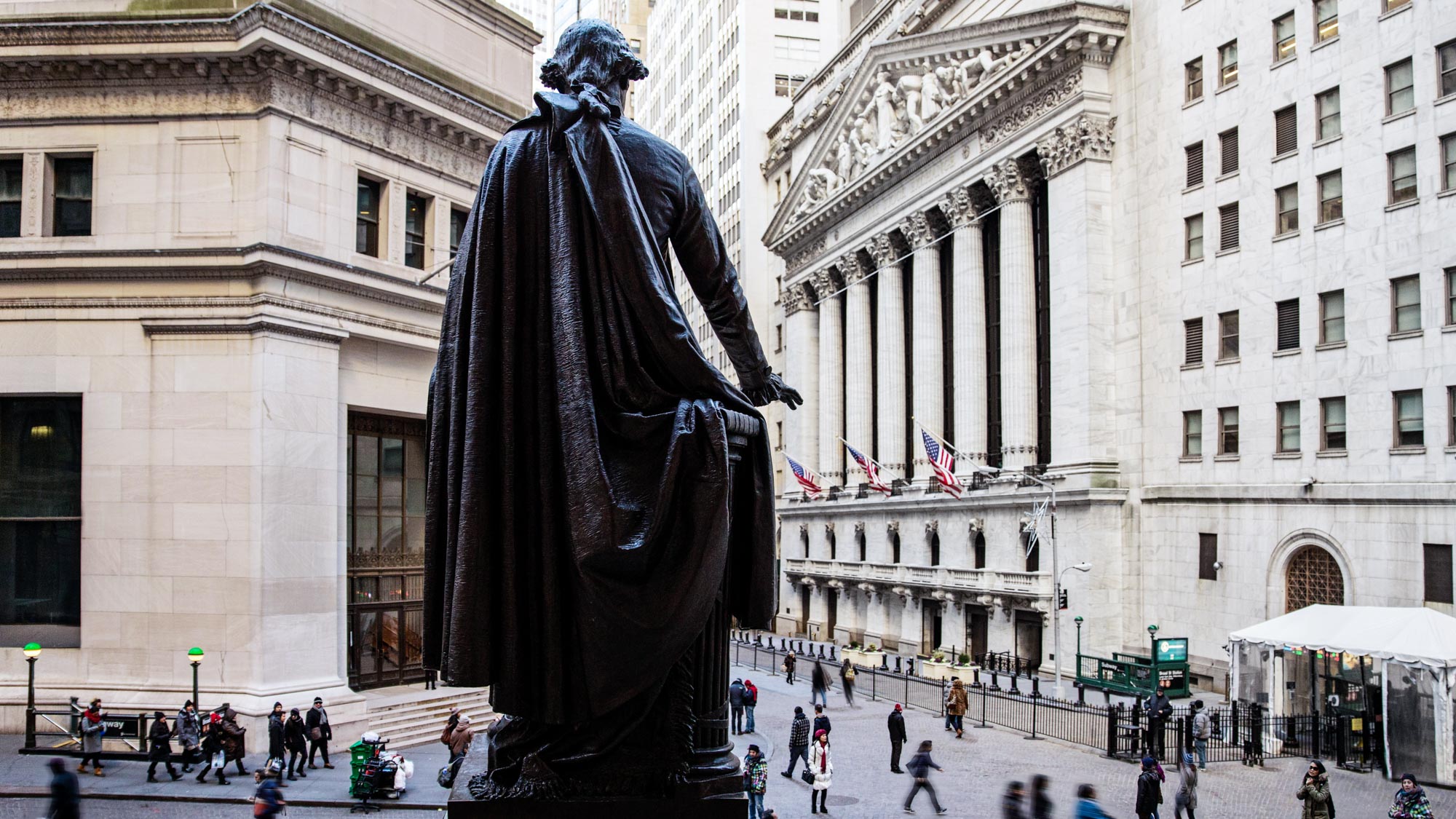 While I will confess that, as a local, I often avoid Times Square and the masses of tourists it draws, I could never say the same for Wall Street.
The amount of history and significance in one neighborhood is unparalleled throughout the rest of the city. Yes, there are tourists and businessmen that flood the area every day, but there are so many things worth seeing that it really is a must when you're visiting New York.
Hopefully, this list of things to do on Wall Street gave you some ideas for what to see and do next time you're in the Financial District — you don't want to miss it!